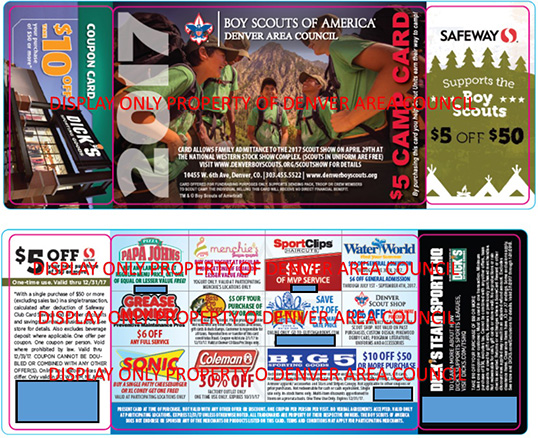 Camp Card Campaign
Do Your Scouts Need Funding for Camp? Sell Camp Cards!
What are the benefits of selling Camp Cards???
Sending Scouts to camp! Higher Retention of Scouts! Funding earned by Scouts!
Scouts have Ownership of Opportunities!
2018 Camp Card Timeline
| | |
| --- | --- |
| January 31 | Order Camp Cards online or fax for to Council Office |
| February 13 | Camp Card Kickoff North |
| February 20 | Camp Card Kickoff South |
| March 1 | Camp Card Sale Begins |
| May 1 | Sale Ends. Units to begin turning money and unsold Camp Cards to Council |
| May 18 | Last day for units to turn in money and unsold Camp Cards |
| May 31 | Announcement of Top Sellers |
*The Camp Card image from last year is here to give you an idea of what a Camp Card looks like.
The image will be updated with the 2018 Camp Card soon!
Camp Card Kickoff Event Links:
Please Note: Camp Cards are ONLY available before March 1st if you attend a kickoff. If you do not attend a kickoff, Camp Cards are available for pick up on or after March 1st at the Hamilton Scout Headquarters or at Roundtable.
How the Camp Card Sale Works
The Camp Card is designed to help units fund their way to 2018 camp programs.
This is a risk-free, product sales project where all Scouts can earn their way to a Denver Area Council Camp, 2018 Philmont Trek, other activities or simply support unit programs or supply needs.
Each Camp Card will sell for only $5.00 to the general public and will have multiple food, entertainment, and service discounts for the consumer to use throughout the year.
The participating unit will keep up to 50% commission from the sale of each Camp Card.
Commissions from the sales are encouraged to be applied toward directly sending youth to summer camp programs, however they may be used as the unit committee sees fit.
Quick Links: